A beautiful young bobcat was tragically struck by a hit and run car on Old Topanga Canyon Road in Calabasas, California, on Tuesday, August 26, 2014, at about 8:20 a.m.
The bobcat was crossing the street when a white car, traveling in a general northbound direction at a good rate of speed, hit the bobcat, knocking it near the center turning lane. Even though the impact made such a loud noise that a guard in an enclosed guardhouse across the street heard it, the driver of the white car never stopped.
It is unknown if the driver of the white car actually knew it hit an animal, as the driver never stopped to see what had occurred.
A member of our law office witnessed this incident, saw that the bobcat was badly injured and immediately asked the guard to call Animal Control. The guard first thoughtfully put a large red warning cone in front of the injured bobcat to prevent it from being struck again or causing an accident, then immediately called Animal Control. Shortly thereafter, the bobcat died and was moved out of the street. While extremely sad that the bobcat died, we are relieved to know that it passed shortly after the collision occurred, thereby minimizing its time in pain. Animal Control, after being advised the bobcat died, did not arrive for several hours.

The guard also provided photos of the deceased, but still beautiful, bobcat so others could see the hazards and result of driving too fast or not paying close enough attention to surroundings, especially in this particular area where there are many animals that may cross the street, including cats, dogs, squirrels, coyotes, deer and bobcats. I am attaching a photo as, while very sad to any animal lover like myself, it is surprisingly not too graphic and I hope will prove as a good reminder to drive carefully. However, I do provide this WARNING not to read further if you might be too upset by this clearly sad photo.
Please let this tragic incident serve as a reminder to drive safely and slowly in residential neighborhoods like where this hit & run accident occurred, and pay close attention to your surroundings, not just the vehicle in front of you.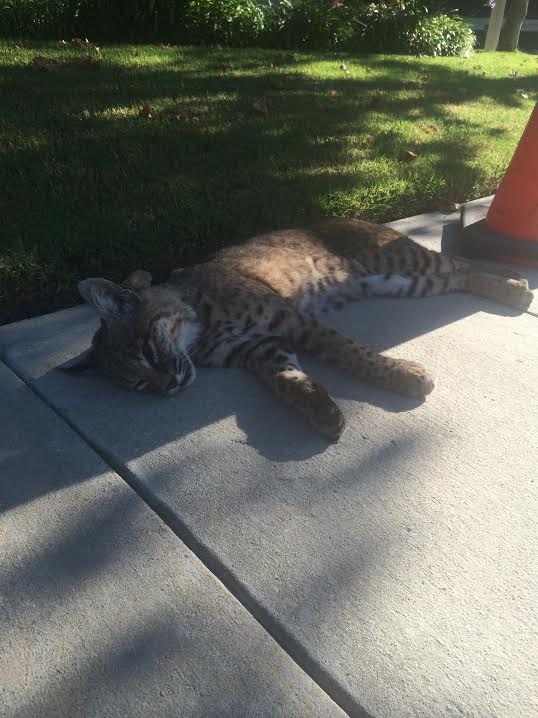 Please DRIVE SAFELY & CAREFULLY!!!